SPC took part in the CONTACT workshop during the Hybrid City III conference, meeting collaborators of the MAZI project.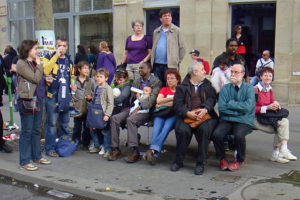 An indoors/outdoors workshop which explores citizen engagement in the smart city toward more conviviality and human interactions, shifting the perspective from sensors to senses, from Internet-based locative media to offline DIY networks, from algorithmic matching to genuine serendipity, from powerful mediators to local actors.
CONTACT wishes to explore the advantages of offline networks and smart city concepts for the design of technology that can serve face-to-face meetings and local communities. We will first provide a short introduction to certain important concepts that help us guide the workshop participants through a collaborative process of hybrid space design: Do-It-Yourself networking, urban interaction design, field research methodologies, and the role of the stranger. Then we will go out to the streets of Athens to explore the surroundings of the conference's venue, to analyze the spatial and social aspects of different places, and to identify locations that are candidates for hybrid urban interventions toward our objectives of conviviality and human interactions. After our collective walk, we will gather in a public space to think together about possible applications and possible processes to design them, including software, hardware, surrounding artifacts and performance. We will focus on ways to take advantage of the special characteristics of DIY networking — ownership, de facto physical proximity, anonymity, and inclusive access — to facilitate contact between strangers, in t,his specific part of the city. The next day, building on the number and competencies of the participants, we will develop a few prototypes of selected applications and organize an urban intervention in some of the selected locations.